Otis Taylor Trance Blues Jam Festival
When:

November 8, 2014

Time:

10:00 am - 9:30 pm

Where:

eTOWN HALL / 1535 Spruce Street, Boulder, CO 80302

Cost:

$20-$65 See Link for Ticket Options

Share:
Otis Taylor Trance Blues Jam Festival at eTown Hall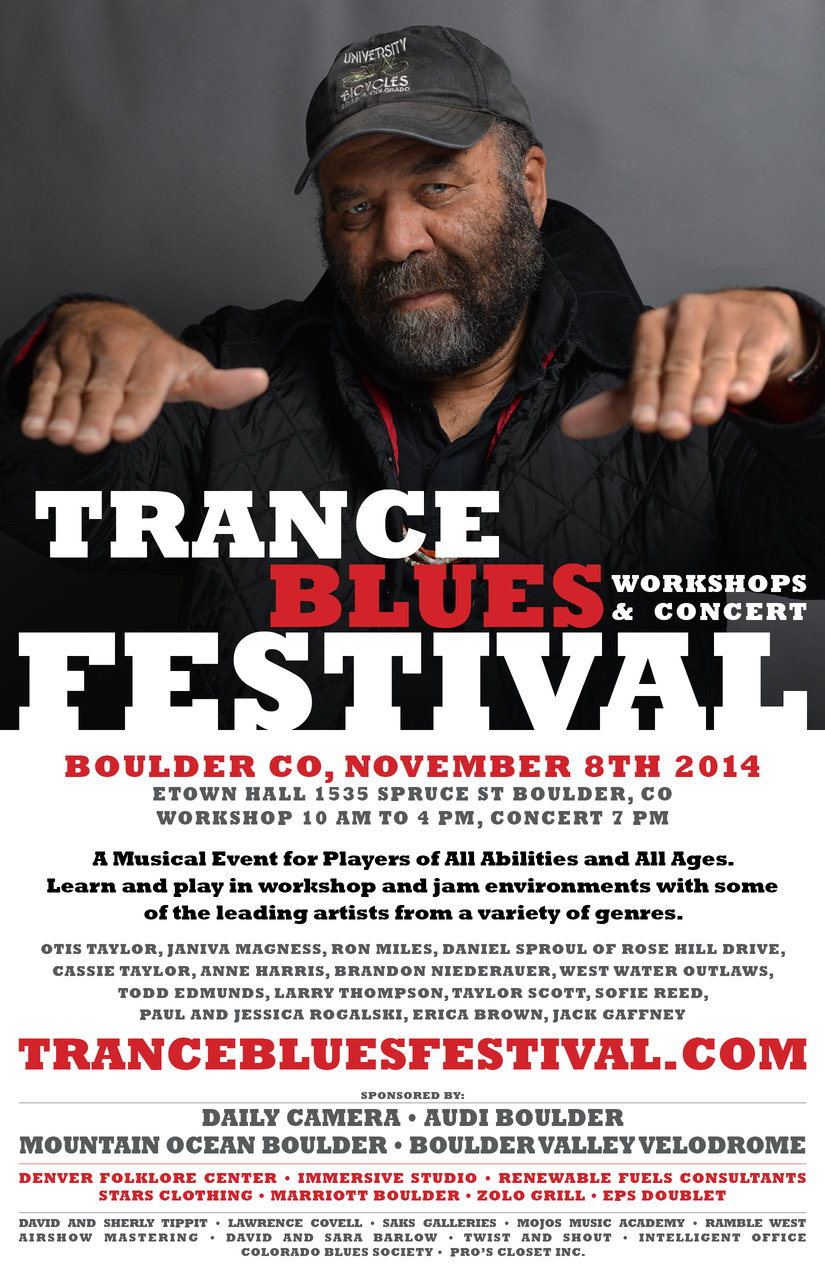 Event Schedule:
Workshops: 10am-4pm
Grand Jam: 7pm-9:30pm
We will once again find International Blues Artist Otis Taylor in his home town of Boulder hosting the Trance Blues Jam Festival. Unlike traditional music festivals where the audience is generally expected to be a semi-passive participant, the Trance Blues Jam Festival (TBJF) encourages people to be active participants who join together in the creation of music. Workshops lead the day, ending with the final Grand Jam in the evening.
The TBJF is designed for players of all types, all ages and all levels of ability to join in. This is more about creating music together than it is about someone showing us how well they can shred the guitar. Previous years' festivals included vocalists, guitars, harmonicas, oboes, banjos, flutes, cellos, drums, violins, recorders, tambourines, maracas, mandolins and more. It does not matter what instrument. They are all welcome and belong at the TBJF.

Workshop Attendees must be accompanied by an adult if under 18.
Final Performance is All Ages.

The 2014 Trance Blues Jam Festival's featured artists are:
Janiva Magness
Magness was born in Detroit Michigan, but suffered the tragedy of losing both of her parents to suicide before she reached her mid-teens. Placed in a series of a dozen foster homes, Magness was pregnant at the age of 17, and gave her baby daughter up for adoption.
Having been initially inspired by the music in her father's record collection, an underage Magness attended an Otis Rush concert in Minneapolis that changed her outlook. Magness later recalled, "Otis played as if his life depended on it. There was a completely desperate, absolute intensity. I knew, whatever it was, I needed more of it." Studying to become an engineer, she worked in a recording studio in Saint Paul, Minnesota, when she was coerced into doing some backing singing. Her work, which included backing Kid Ramos and R.L. Burnside, led her to Phoenix, Arizona and in forming her own band, the Mojomatics. They enjoyed local success before Magness relocated in 1986 to Los Angeles Her first album It Takes One to Know One, was released in 1997. In 1999, Magness starred in a stage production of It Ain't Nothin' But the Blues, at the David Geffen Theater in Westwood, Los Angeles, California.
Three independent releases followed before Magness was signed to a recording contract by Northern Blues Music. They released Bury Him at the Crossroads (2004) and Do I Move You? (2006). Both albums were co-produced by Magness and Colin Linden, with the former earning them a Canadian Maple Blues Award for Producers Of The Year. Do I Move You? reached number 8 on the Billboard Blues Album Chart.
In 2008, Magness signed with Alligator Records releasing What Love Will Do. The Chicago Sun-Times stated, "Her songs run the gamut of emotions from sorrow to joy. A master of the lowdown blues who is equally at ease surrounded by funk or soul sounds, Magness invigorates every song with a brutal honesty." She toured widely incorporating Canada, Europe as well as across the United States.
The equally critically acclaimed effort, The Devil Is an Angel Too, appeared in 2010, and Stronger for It in 2012. The latter included some of her own songs, the first album to do so since her debut effort in 1997.
In 2013, Magness was nominated in five categories for more Blues Music Awards.
Otis Taylor Band

With Otis Taylor, it's best to expect the unexpected. While his music, an amalgamation of roots styles in their rawest form, discusses heavyweight issues like murder, homelessness, tyranny, and injustice, his personal style is lighthearted. "I'm good at dark, but I'm not a particularly unhappy person," he says. "I'd just like to make enough money to buy a Porsche."
Part of Taylor's appeal is his contrasting character traits. But it is precisely this element of surprise that makes him one of the most compelling artists to emerge in recent years. In fact, Guitar Player magazine writes, "Otis Taylor is arguably the most relevant blues artist of our time." Whether it's his unique instrumentation (he fancies banjo and cello), or it's the sudden sound of a female vocal, or a seemingly upbeat optimistic song takes a turn for the forlorn, what remains consistent is poignant storytelling based in truth and history. On his sixth CD, Double V, Taylor unleashes intimate tales as he produces an aural excursion inspired by an unconventional childhood.
Larry Thompson is a highly acclaimed drummer in great demand as a performing and recording artist. He has worked in many different genres of music and has performed in almost all music venues including the blues with John Mayal, John Lee Hooker and Elvin Bishop, heavy rock with Tommy Bolin, Wall of Windows, and Body House, live radio and Television shows like E-Town on National Public Radio, classical shows with the Colorado Symphony Orchestra, the CSSO featuring Steve Barta and Wind Machine with The National Repertory Orchestra. He has also toured with folk artists like Glen Yarbrough and The Limelighters, rock artists like Iain Mathews, and performed with jazz artists like Dizzy Gillespie, Dave Valentine, and Robin Ford to name a few.

Larry's extensive recording credits, numbering nearly 400 records, include John Denver, Dan Fogelberg, Otis Redding, Jeff Muldaur, The Bette Midler Tribute, Peter Kater, Dotsero, Jill Sobule, and Wind Machine.

Larry's talent is sustainable. He has performed live stage shows some running months at a time among which a sampling are "The Great Tap Dance Revival" starring Gregory Hines and a host of the world's greatest tap dancers, the award winning "Bubbling Brown Sugar", Man Of La Mancha, and Danny Holgate's "Broadway In The Parks"
After creating a bit of drumming history in high school, Larry went on the road with fellow classmates who later became the core of the legendary group "Earth, Wind, and Fire". Following that he became staff drummer at a local recording studio where he daily juggled his drumming skills from television and radio commercials, to film scores, to album projects. These arenas of diverse drumming needs perpetuated Larry's love of music and he found not only was he able to play the blues as well as classical as well as pop, etc., but that he did so with the expertise and execution of someone much his senior in terms of experience. Thus, emerged a natural.
Now it's summer 2005 and you'll find Larry in the studios recording several albums , and radio and television commercials, U.S.A. tours with Dotsero, and Bryan Savage, and still finding time to gig with over a dozen local bands.
Todd Edmunds is a bassist and sousaphonist from Augusta, Georgia. He has performed in a wide variety of musical situations. His exposure to the blues circuit came as a five year stint as full time bassist for Jason Ricci & New blood. He is a life long student of music with a foundation in jazz.
Taylor Scott has been playing music since he was 9 years old. He began playing professionally at the age of 14 and started touring with various bands immediately after high school. Scott's musical roots consist of soul, funk, blues, jam, and rock & roll among other genres. Growing up in Cheyenne, WY had an interesting effect on Scott's development as a musician. Living as a music fanatic in a place not known for having much of a music scene taught Taylor "to never take music for granted." In addition to playing lead guitar with Otis Taylor, he fronts The Taylor Scott Band as well as records and performs with other artists in the Denver music scene. Taylor Scott is very grateful to be a part of Otis Taylor Band.
Anne Harris
Anne Harris is a singer-songwriter, fiddler and indie recording artist whose "songs frequently sound born of a spiritual awakening" (Chicago Tribune.) Her "original sound and voice" (Bruce Hornsby) channels influences "from Celtic to African to American folk/rock" (Chicago magazine.) "Gravity and faith," the latest of her four studio records, exudes a revealing honesty and deep-rooted strength, with her signature, fiddling and string arrangements comprising a compelling sonic embrace. Anne is thrilled to be performing with Otis Taylor for selected tour dates.
Cassie Taylor
Cassie Taylor was born in 1986 in Boulder, Colorado, where she was raised by her parents Carol Ellen Bjork and blues musician Otis Taylor. She has one younger sister. Despite being born during a period when her father was on hiatus from the music industry, he did expose her to blues music and teach her piano when she was young. She only became aware of his previous career around age 8 or 9. At around age 12 she began playing electric bass, impressing her father with a rendition of "Hey Joe."

When Taylor was 16 her father asked her to tour as the bassist in his band. Since his usual bassist Kenny Passarelli had a conflicting schedule she joined his summer tour, playing for twenty dollars per gig.[2] According to Taylor, her father didn't build her up as a prodigy, but rather "I think I was just cheap child labor. Plus, he knew I wasn't going to get drunk on the road or go missing. Some people have the fear of God in them. I had the fear of Otis."
She toured multiple countries with the band, picking up vocals and keyboards as well. She went on to appear in eight of his albums,including lending bass and vocals to his 2007 album Definition of a Circle. She is also on the Board of Directors for the Blues Foundation.
Daniel Sproul
Daniel Sproul (August 18 1982) is a guitarist of American rock band Rose Hill Drive. He is the brother of bassist and vocalist Jacob Sproul.
He plays a Gibson Les Paul and Fender Stratocaster. His main influences are Jimmy Page and Eric Clapton.
Paul & Jessica Rogalski of Mojo's Music Academy