Out Boulder and Terrapin Care Station present Transamerica with Director Duncan Tucker
When:

September 11, 2015

Time:

7:00 pm - 9:30 pm

Where:

eTOWN HALL / 1535 Spruce Street, Boulder, CO 80302

Cost:

$50 VIP, $15 GA See ticket link for price information

Share: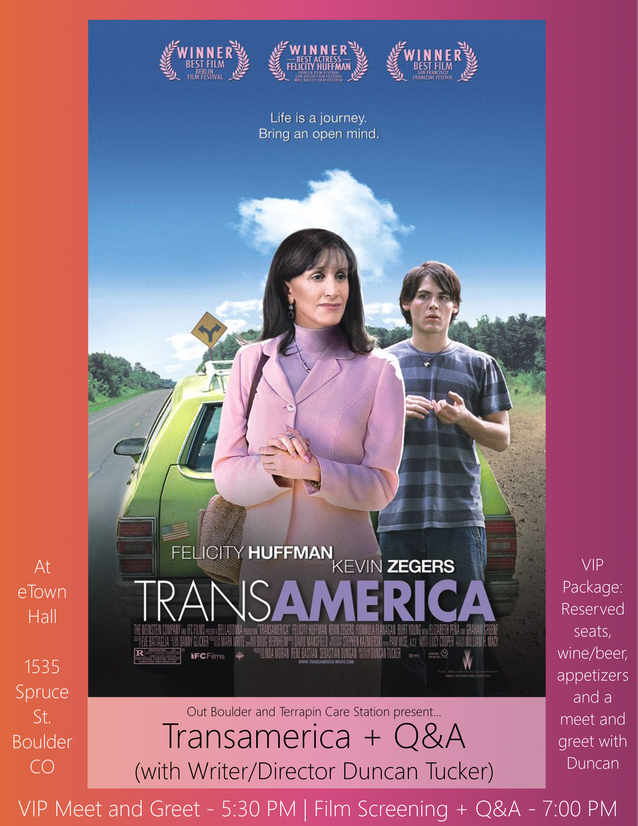 Out Boulder and Terrapin Care Station are teaming up to bring you a screening of the iconic 2004 film, Transamerica. A comedy that will make you laugh out loud, this groundbreaking film for transgender visibility was written and directed by Duncan Tucker, who will be at our VIP meet and greet from 5:30-7 PM and also on hand for a Q&A with Sara Connell from Out Boulder afterward.
---
About Duncan Tucker
Born in Kansas City and high-schooled in Phoenix, Duncan Tucker graduated from New York University and lived in New York City's Greenwich Village for most of his adult life, drawn there by his love of high and low art. He immersed himself in painting, sculpture, dance, theater, performance and music, from the great uptown museums and theaters to the seediest basement venues and 5th story walk-up bathroom art galleries in the darkest reaches of Alphabet City. He regularly stayed up till dawn talking with and learning from downtown painters, performance artists, drag queens, musicians, night-club habitués, transpeople, writers, actors and gallerists - all of whom were fabulous.
Eventually he decided he wanted to combine his lifelong love of stories, pictures and music by making movies.
He wrote and directed a 20 minute short film called The Mountain King, which screened in over 30 festivals worldwide, won multiple awards and was distributed theatrically in a compilation called Boys to Men.
Following The Mountain King Mr. Tucker researched, wrote, produced and directed the feature film Transamerica. Transamerica premiered at the Berlin Film Festival, where it won the Siegessaüle Jury Prize for best film. Numerous festival awards for best film and best screenplay followed. Transamerica was released theatrically in the U.S. by The Weinstein Company, and garnered critical acclaim as well as two Golden Globe nominations – including a win for Felicity Huffman as best actress; two Oscar nominations; and Spirit Award wins for Ms Huffman for best actress and Mr. Tucker for best first screenplay. Mr. Tucker is proud that Dolly Parton wrote two songs for him, and that Dolly and he worked together closely in Nashville to lay down the track of the song he chose (Travelin' Thru), and that that song has become one of Dolly's signature numbers.
Transamerica also won the GLAAD media award and the Equality California Award. Transamerica: the Screenplay was published by Newmarket Press, and the soundtrack was released by Nettwerk Records. Transamerica continues to be taught in college-level psychology, sociology, gender studies and even film classes around the country.
At Cannes Film festival, when Transamerica was selling briskly to international markets, Mr. Tucker realized he wasn't going to lose his shirt on the film, and decided he was ready and able to pursue another lifelong dream: to start a family. He is now the devoted parent and hostage of three wonderful, high-spirited and formidable children whom he loves very much.