School House Fun, a BCSIS Fundraiser!
When:

May 5, 2016

Time:

5:30 pm - 9:30 pm

Where:

eTOWN HALL / 1535 Spruce Street, Boulder, CO 80302

Cost:

$85 VIP / $25 GA Plus applicable service fees

Share:
**VIP Doors & Reception: 5:30pm
General Admission Doors: 7:00pm
Music Start: 7:30pm
Event End: 9:15pm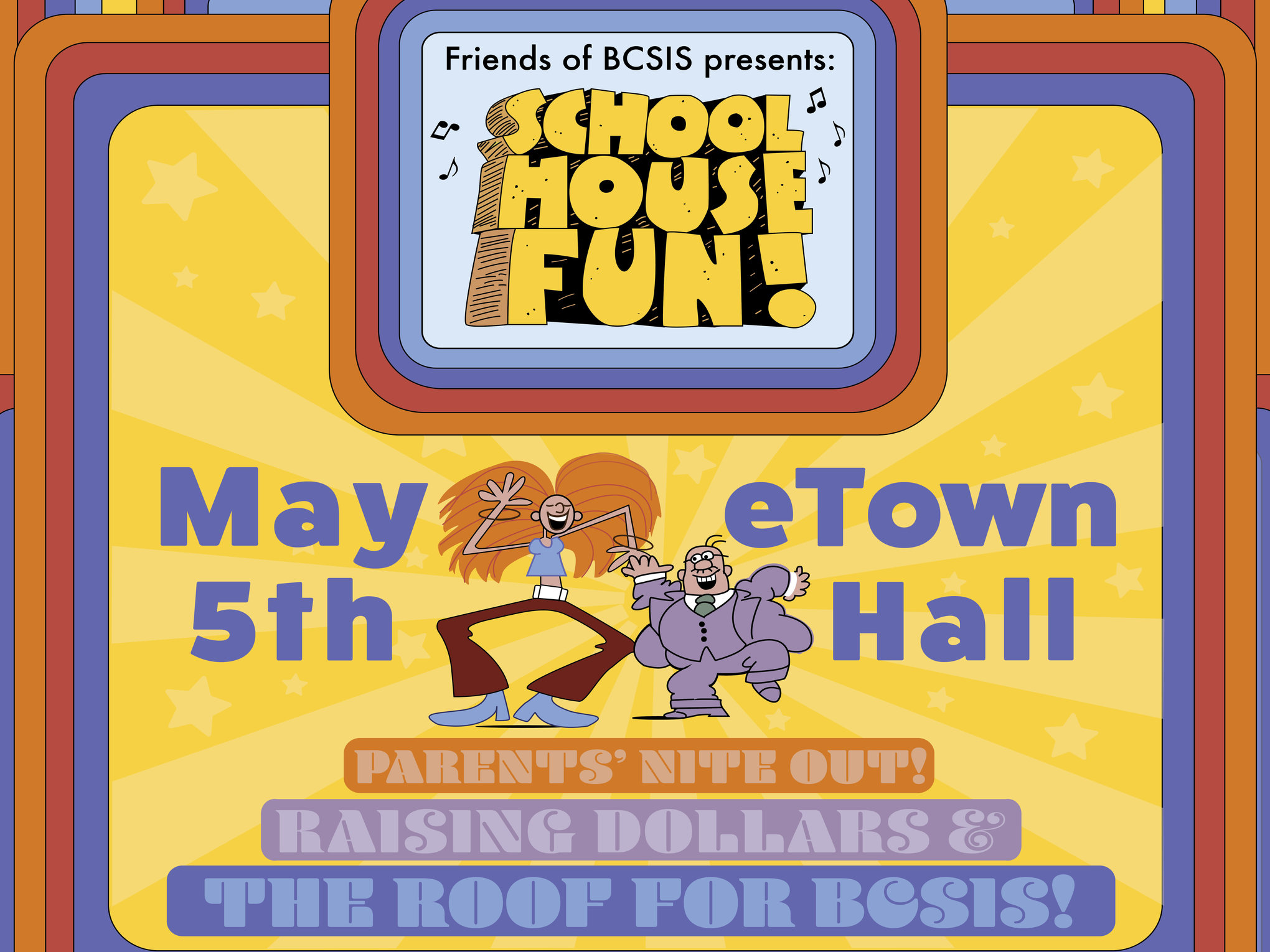 Join us for a fundraiser for BCSIS school
featuring School House Funk!
**A limited number of VIP tickets are available and include an intimate reception before the show (5:30-7 pm), with appetizers, adult beverages, a silent auction and more.
School House Funk
In 1998 Dave Watts founded The Motet, an eclectic funk outfit with roots in jazz, rock, world, and electronic music.  Since that time, The Motet has been touring coast to coast, building a national following from Alaska to Miami and performing at such venues as Red Rocks Amphitheater, The First Bank Center, The Fillmore West, Jam Cruise, Wakarusa and many others. Between The Motet and his side projects, Watts is performing over 200 dates a year, and has since shared the stage and recorded with such greats as George Porter, Stanley Jordan, Bill Evans, Charlie Hunter & Bernie Worrell.
Liza Oxnard first gained national attention in 1991 as the singer, lead guitarist and songwriter for the popular band Zuba. Her fierce lead guitar work, seductive vocals, and passionate songwriting helped Zuba become a national favorite throughout the 90's in a thriving Colorado music scene in the era of Big Head Todd, The Samples, & Leftover Salmon. The band released four albums in their 8 years together landing singles on the soundtracks of several major motion pictures, most notably Kingpin and There's Something About Mary.
After Zuba, Liza focused more on her singer/songwriter side, releasing a critically acclaimed album, "Bird On A Wing", in 2006.
Her current band, piKziL (pixel), will release their first full-length album this spring, a blend of jazz remix, lush strings, catchy songs with a lounge aesthetic and funky beats made for dancing. piKziLis a warm and primordial roux, a hot tango between Astrud Gilberto and Debbie Harry. piKziL is cool, urbane, a place where trumpets float like Dark Rum in a Mai Tai, as magnetic orbits intersect in space.
Friends for decades, Dave and Liza have performed together numerous times from Motet tribute shows to special events like this BCSIS FunRaiser. We are thrilled to bring you these 2 incredible talents with their band, School House Funk.

The band includes some other great Boulder Musicians:
Casey Sidwell – Bass, Adam Revel – Keyboards, Dan Schwindt – Lead Guitar, Jon Grey – Trumpet and Vocals and Drew Sayers - Saxophonist