A Night of Music Celebrating Terry Orin
When:

January 27, 2016

Time:

6:30 pm - 9:30 pm

Where:

eTOWN HALL / 1535 Spruce Street, Boulder, CO 80302

Cost:

$10

Share:
Doors: 6:00pm
Show Start: 6:30pm
Show End: 9:30pm
---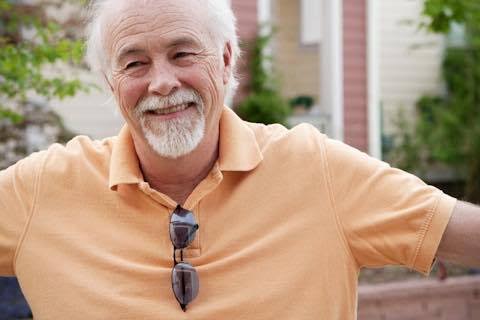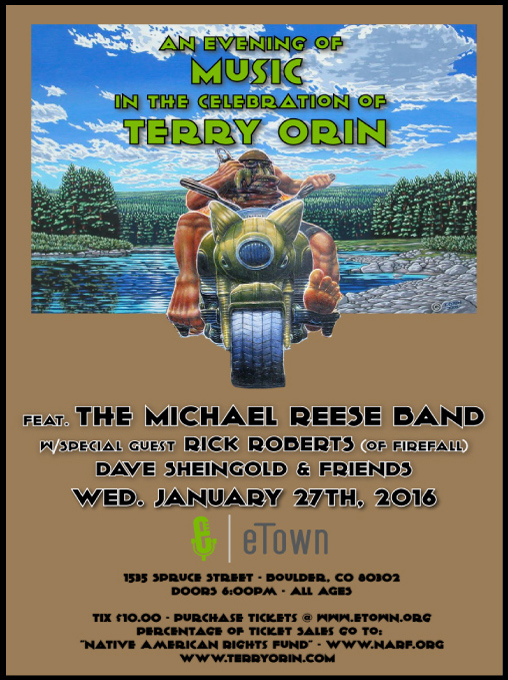 A night to remember and pay homage to a wonderful man named Terry Orin, who was a huge part of the Boulder and Nederland Community, a wildly talented Painter & Graphic designer, Friend, Brother, Son, Uncle & Godfather.  A memorial concert in honor of him and his love for life, arts, music, culture and love for his friends.
*A percentage of ticket proceeds go to Native American Rights Fund - WWW.NARF.ORG
---
 The Michael Reese Band
feat. Rick Roberts (formerly of Firefall)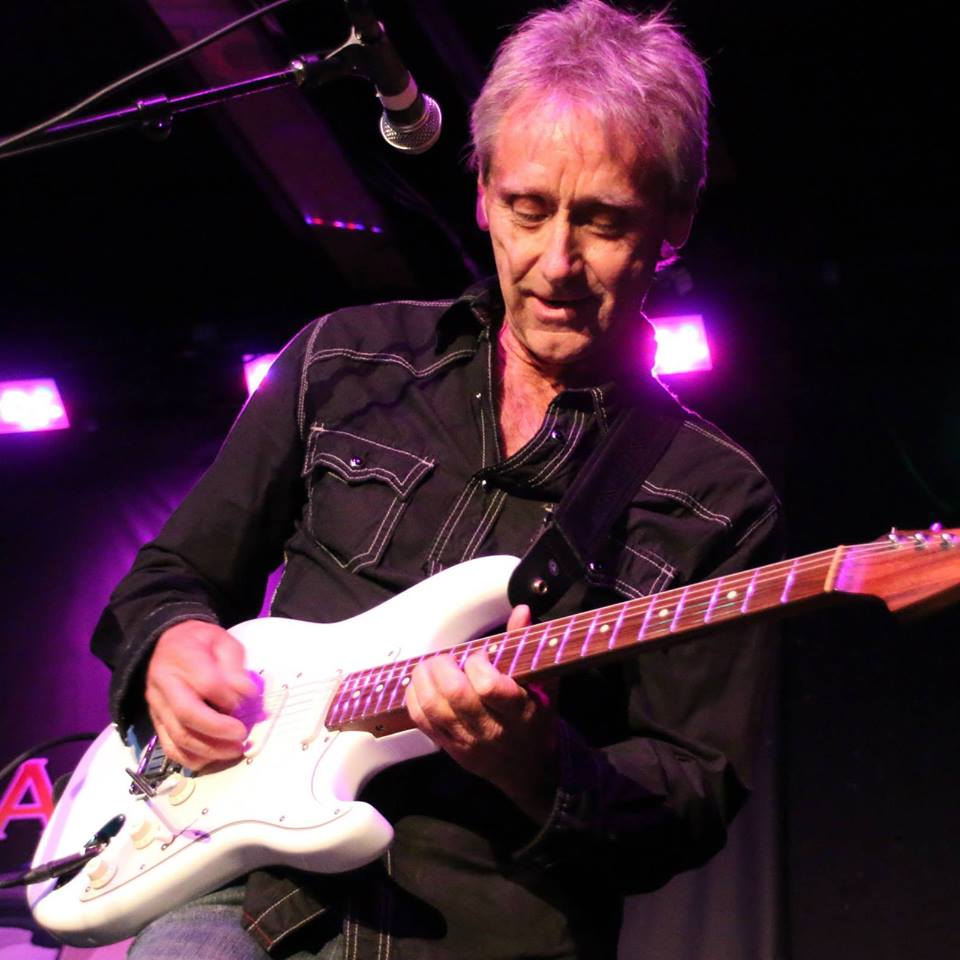 Michael's gifts and his creativity have been recognized over and over. In 1995, he was nominated as "Best Guitarist of the Year" at the prestigious Los Angeles Music Awards for his work on his first solo CD, "Dragonflyer." Later the same year, he performed in the Tommy Bolin Tribute Concert and was named an Official Fender Endorsee by Fender Musical Instruments, Inc. In 1996 Michael formed the band F5 with former Joe Walsh keyboardist Tommy Stephenson and Peter Frampton's former bass player, Stan Sheldon. Their first CD, "Dodging the Dream Killers," produced by famed Santana drummer, Michael Shrieve, was nominated by Jazz Central Station as one of the top ten best jazz CDs of the year.

Michael has played blues, rock, country, funk and jazz in over seventy bands. He also formed several bands of his own which he used as vehicles for his original compositions. He opened for such rock luminaries as Johnny Winter, Edgar Winter, John Mellencamp, Huey Lewis, Robben Ford, John Mayall, Alice Cooper and Steve Morse, the multitalented lead guitarist and founder of the Dixie Dregs and current guitarist with the revived giants of the revived seventies rock scene, Deep Purple. Michael soon established himself as the finest guitarist ever to come out of Colorado. Before long, he was playing with such legends as Keith Emerson, of Emerson, Lake and Palmer, Mick Fleetwood, a founding member of Fleetwood Mac, and Mitch Mitchell, the drummer who dept the beat for The Jimi Hendrix Experience.

Michael has done extensive work in the studio. He has played on national commercials, feature film scores, Discovery Channel documentaries, ski movie icon Warren Miller's "Snowriders," and an upcoming IMAX film. His film credits include; "For Hire," starring Rob Lowe and Joe Montagna; "Bleeders," with Rutger Hauer; and "Rainbow," featuring Dan Akroyd and Bob Hoskins. In each of these films he worked with the highly regarded film composer Alan Reeves.
---
Rick Roberts
(Original Singer/Songwriter for Firefall)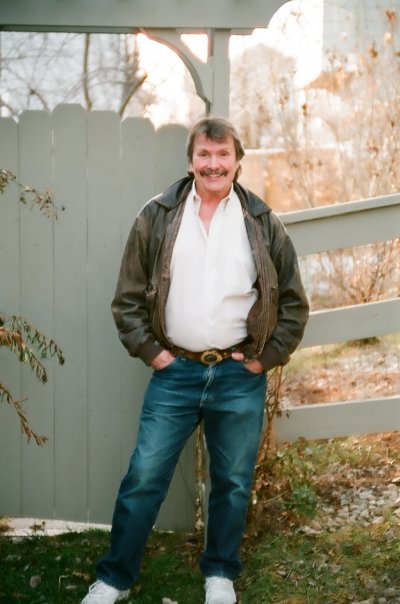 Rick Roberts had the good fortune to become part of the Flying Burrito Brothers while they were still within hailing distance of their origins and the bad fortune to emerge in countryrock just as the latter was starting to become passé. Born in Florida in 1949, Roberts came of age amid the first wave of rock & roll and by the 1960s was gravitating to the folkrock sounds of the Byrds and the Beau Brummels . He took up the guitar and found that he was a more than competent singer and seemed to have a talent for songwriting as well. Roberts moved around as a teenager, living in Washington, D.C., South Carolina, and Colorado, and picked up more experience singing in any clubs that would let him. He finally decided to try his luck in the big time by hitchhiking his way to California in 1969. He began performing at smaller clubs in the Los Angeles area and made a lot of friends among the second generation folkrockers who were filling those performance rosters, all of them, like Roberts, waiting for their respective big breaks.


It was at one of those shows that he was spotted by Ed Tickner, who managed the Flying Burrito Brothers. At the time, in early 1970, the Burritos were looking for someone to replace Gram Parsons, the group's cofounder, whose erratic personal and professional behavior had gotten him dropped from the band. Roberts had a finely expressive voice and was a good acoustic guitarist, and seemed the best prospect. Tickner thought so, and cofounder Chris Hillman thought so, but Roberts himself wasn't so certain. He'd played and sung in a folkrock idiom, but the more countrified sound of the Burritos was not something he fully embraced or saw himself as contributing to effectively. Hillman, who'd made a similar stretch from a different direction in his own musicianship when he abandoned bluegrass for the rock sound of the Byrds in 1964, encouraged Roberts, however, and soon he was an integral part of their sound.


This wasn't the easiest role to fill. Even in 1970s, Parsons had the beginnings of a serious cult following, and many observers and audience members who'd bought those first two Burritos albums took some time to accept Roberts as the lead singer of the band. Still, his presence made it possible for the group to extend its run of original albums to three and then four as is often the case in such lineup changes, the older music was more interesting while the newer sound was more commercial and the group was better onstage. Even in later years, however, the group's records with Roberts, lacking the mystique that Parsons' presence imparted to the first two albums, would get discovered later rather than sooner by most new fans, although they sold well enough to keep A&M Records interested right into 1972. He did, in fact, give the group slightly more of a pop sound through his singing and songwriting, which was heavily represented on the band's selftitled third album. And this shift made them more accessible to rock listeners and sustained them across a subsequent tour and a resulting live album, Last of the Red Hot Burritos (1972).


Considering his reticence in joining the band, it was an ironic twist when Hillman exited the lineup in 1971 to form Manassas with Stephen Stills . The rest of the members also went their separate ways, and it was Roberts who kept the Burritos name alive for a European tour, filling out the lineup with Kenny Wertz, Byron Berline, and Roger Bush from Country Gazette, alongside Alan Munde, Don Beck, and Erik Dalton. Roberts, originally the reluctant Burrito, was the sole established member of the band on that tour, but they did fulfill the requirements of promoters, and there was even a live album released by Ariola, the group's European label, in the wake of that tour. Roberts was realistic enough, however, to see the future of the Burritos only in very limited terms, and soon after returning to the United States, he embarked on the recording of his debut solo album, Windmills. That record showcased his voice and guitar, but it was also from the standpoint of later years something of an all-star affair, as friends that Roberts had made on the L.A. countryrock scene all contributed to the record; this included playing and singing by Don Henley, Randy Meisner, and Bernie Leadon of the Eagles (who were still an upandcoming pop/rock act at the time, and nowhere near the megaplatinum sales they would see in the second half of the '70s), and by Jackson Browne. Oddly enough, for someone not that comfortable with the country side of the Burrito Brothers' sound, the most beautiful songs on the album were "In a Dream," "In My Own Small Way," and a cover of Harlan Howard's "Pick Me Up on Your Way Down," all of which featured Al Perkins pedal steel guitar in profusion. A second album followed in 1974, but neither record elicited much excitement from the public, despite some excellent playing and singing and fine songs on both.


In 1974, Roberts and ex-Byrds/Burritos drummer Michael Clarke got back together as the core of a new pop-flavored country group called Firefall, based in Boulder, CO, and also featuring Jock Bartley, a guitarist who had played with Gram Parsons, and Mark Andes of Spirit on bass. This outfit proved to be one of the more successful countryrock outfits of the mid 70s, generating immensely popular singles in "You Are the Woman" and "Just Remember I Love You." Those records enjoyed the kind of AM radio play that the Burritos never got past dreaming about, and Firefall was able to sustain itself across six LPs before calling it quits at the outset of the 1980s. Roberts later toured with Chris Hillman during the latter's initial return to folk and bluegrass music. He was also a peripheral part of Michael Clarke's effort to use the Byrds name, joining him as a member of a Byrds tribute band late in the 1980s but among those band members who subsequently departed the group, objecting to its eventual use of the "Byrds" moniker. In 2005, the British label Gottdiscs re-released Roberts' two 1970s solo albums on a single CD.

Artist Biography of Rick Roberts by Bruce Eder (www.allmusic.com)
---
 Dave Sheingold & Friends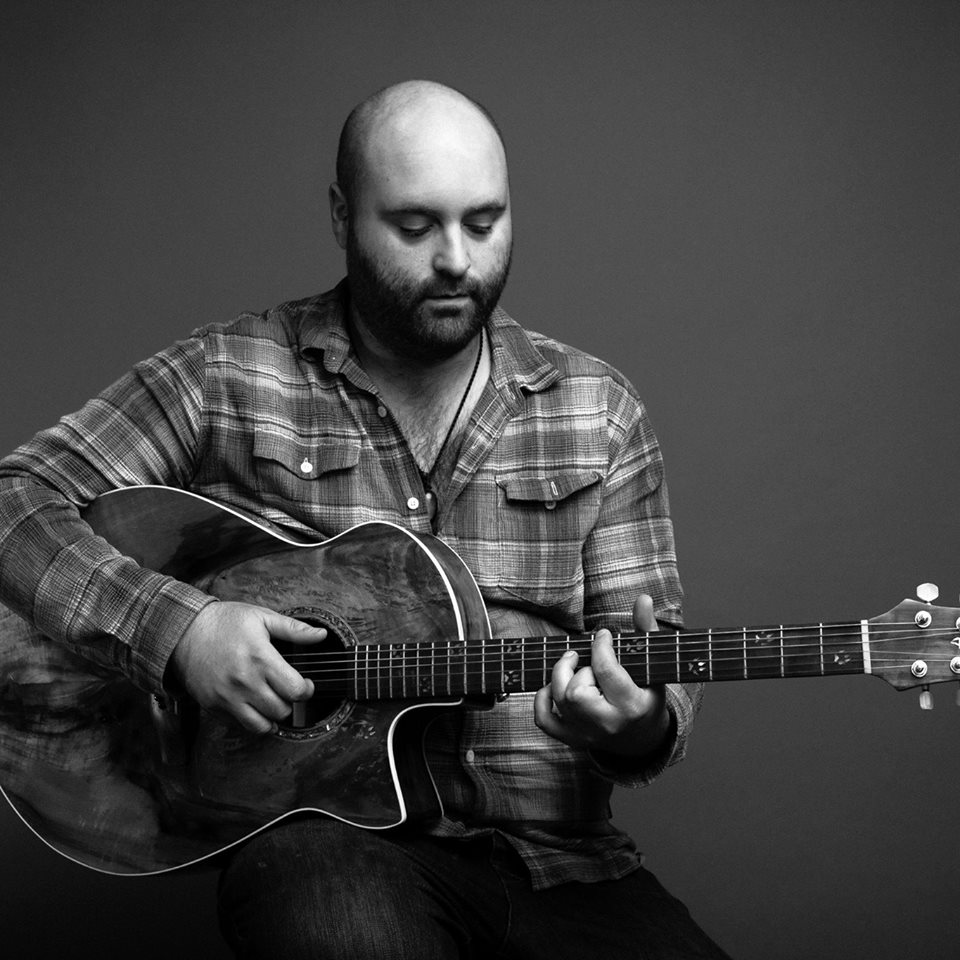 David Sheingold is a Boulder local performer who just recently went on a national tour with "HOLLY" and Ken Strinfellow (REM, The Posies, Big Star) as both an opening act and member of the band. Most recently, David recorded his first album ft. some of Colorado and the nation's most prolific folk musicians including members of both "Brandi Carlisle" and Boulder local "Gregory Alan Isakov." This spring he will be doing his own national headlining tour with Same Rae Sidwell (Brandi Carlisle). David's music combines folk instrumentals with very high range and explosive pop, Jeff Buckleyesque vocals.