An Evening of Extraordinary Music with Chris and Daya
When:

November 28, 2015

Time:

7:00 pm - 9:00 pm

Where:

eTOWN HALL / 1535 Spruce Street, Boulder, CO 80302

Cost:

$26 Plus applicable service fees

Share:
Doors at 6:00pm

A harmony-infused magic carpet ride of lively, heart-warming songs performed by singer songwriter Chris MacVittie and vocalist Daya Rawat -- a little bit of country, pop, folk and rock, with a whole lot of love. Opening set provided by singer-songwriter extraordinaire and long-time friend of eTown, Barry Ollman.
---
 
Chris and Daya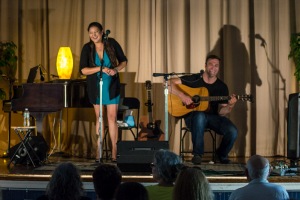 Chris & Daya have been honing their respective musical talents for the better part of their lives. Chris Mac Vittie is a singer/songwriter from New England who has been performing for nearly two decades. Daya Rawat is a vocalist from Malibu, California who performs for audiences of all sizes the world over. 
Chris & Daya met close to twenty years ago at an event where Daya was performing. They started singing simple harmonies over the strings of Chris' acoustic guitar, and eventually began performing original compositions. In response to overwhelmingly positive feedback, Chris & Daya began working on an album so that their music could be enjoyed by an even wider audience.
Along the way, Chris & Daya enlisted the help of Grammy nominated mix-engineer Mark Needham (The Killers, Pink, Shakira, Chris Isaak, and Fleetwood Mac) who enthusiastically agreed to be a part of an undoubtedly special project. After almost a year of writing, recording, and mixing, Chris & Daya selected ten songs to appear on an album – "The Envy of Stars."
The Envy of Stars is the product of Chris and Daya's love of music and of love itself. The album has country, pop, rock, and folk influences and features beautiful vocal harmonies throughout. Embodied in the album's songs is a message of peace, love, and expression.

"Their voices are infused with joy, their harmonies are a magic carpet ride, and their lyrics pack a wallop. Plus, their stage presence is very entertaining. Chris and Daya are the kind of performers you will tell your grandchildren you saw before the word got out."
--Mitch Ditkoff, Idea Champions, The Heart of the Matter Blog