Community Music Night @ eTown Hall
When:

September 24, 2015

Time:

7:00 pm - 9:00 pm

Where:

eTOWN HALL / 1535 Spruce Street, Boulder, CO 80302

Cost:

$10 Plus applicable service fees

Share:
Doors: 6:00pm
Show Start: 7:00pm
Show End: 9:00pm
---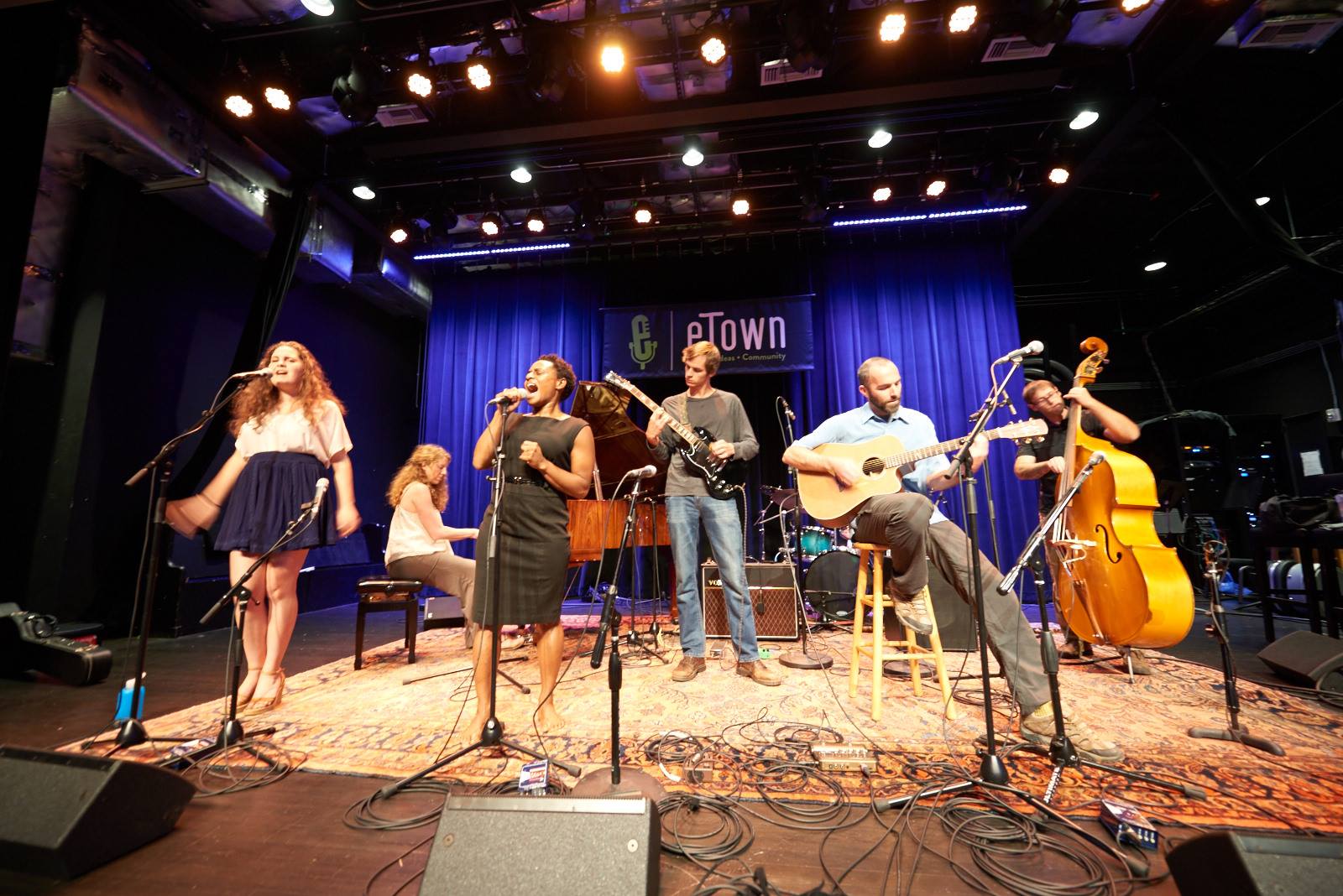 Photo by John Maushammer
Akin to a musical version of "Ignite Boulder" all of our musicians are every-day folk: Scientists, educators, engineers, and more. Yet they all have one thing in common: A passion for high-quality music.
At each of our events you'll explore diverse musical styles from a variety of musicians such as original instrumental solos or full band soul, folk/bluegrass, pop, classical, and even on-the-spot comedic originals. Some artists play a solo or duets, most mix 'n mingle throughout the evening, and sometimes we even have sing alongs or surprise audience serenades.
This interactive, musically spirited evening is sure to entertain. All ages welcome, and in community spirit be sure to invite your family, friends, and neighbors!
Check out Community Music Night on Facebook!
---
About the Performers:

Leslie Ann Leddy, Pianist, Vocalist, Composer
A local music teacher and now Community Music Night regular, this Georgia Peach has truly lit up our stage with her beautiful piano compositions. After moving West to Boulder Colorado in 2005, her piano and heart ready to explore the grandeur the foothills, Leslie has created deep roots in our town and now owns her music studio, Peach Performing Arts Conservatory, LLC.

Having studied piano in college at Furman and Shorter Universities, her previous professional experiences have given her the opportunity to perform with the Greenville Symphony Opera, the Furman University Choral, the Shorter University Choral, and travel and perform in East Europe, Greece, Europe, Honduras and Costa Rica. She has won several awards of honor, music scholarships, and was honorably invited to attend the St. Petersburg's Piano Institute, Russia at age 16.

While competitions and recitals and performances have been much of her experience, her true passion is in teaching and creating her own compositions and collaborating with other musicians. We feel privileged to have found such a talent in Boulder and are thrilled to share her talents with you.
Jay Kraemer, Guitarist, Vocalist, Singer-Songwriter
A fresh face to Community Music Night, we first found this 23-year-old crooner creating musical harmony in a local yoga studio. We have promptly plucked him to join our crew and we know you'll love what you hear. A talented male vocalist, guitarist and singer-songwriter (as well as budding pianist, violinist, and more), his original music is only surpassed by the soul with which he presents it. As with the rest of us, Jay studied other fields in college & now works in downtown Boulder, but we're not so sure he'll stay out of the musical limelight for long! Be sure not to miss this eTown debut as he joins several of our Community Music Night musicians to create a full band experience for his original songs.
Paul Sommer & Friends
Paul and his crew are first timers to Community Music Night and we are excited to welcome them to our stage. A gathering of local talent, they will come to share a few original Americana/Folk/Bluegrass tunes with the likes of guitar, mandolin, banjo, bass, and vocals.
Ben Fullerton, House Drummer
Raised by two singer/songwriters, at the age of 4 Ben decided to break rank and become a drummer. Sixteen years later, while pursuing a performance degree from the Berklee College of Music, he developed severe tendonitis that forced him to take an indefinite hiatus. His creativity sought new outlets and after receiving a camera for Christmas one year he found himself unable to stop taking pictures. In the blink of an eye he transitioned into professional photography and later filmmaking. When he couldn't find the right music for a film project, he remembered his roots and decided to make it himself... the fire for creating music started raging once again. Ben is a Community Music Nights regular and we could not be more thrilled to have his expertise and jovial spirit.
Geoff Kembel & Jennifer Franz, Guitarist, Pianist, Vocalists/Harmony Duo
Geoff and Jen first joined our series two summers ago where they started performing together and have quickly become an evening favorite. After traveling extensively and even getting married this past year (congratulations!), we are thrilled to invite them to reunite with us here at eTown! Putting a fresh spin on beloved covers by artists such as Gregory Alan Isakov and Mumford & Sons, this male/female harmony duo is sure to bring sweet smiles.
Elise Legendre, Pianist, Vocalist, Songwriter
Another now regular to Community Music Night, 16-year-old singer-songwriter Elise Legendre has captured our attention. A winner of the 2014 eTown Handmade Song Contest, Elise was able to record her song, "Calling" at the eTown studios in Boulder. The song was recently released on CD and on iTunes. Shortly after she joined us for our debut at eTown, and again during our segment at Boulder Arts Week.

Although just beginning to perform her original songs publicly, Elise has been composing songs since Middle School. She has also been active in local theater, musical theater and opera productions, having performed with the Colorado Music Festival, the University of Colorado Opera, Broadway in Boulder, the Colorado Shakespeare Festival and her school choirs. For Community Music Night, Elise will combine piano and vocals for an acoustic set. A Boulder native, Elise is currently a Junior at Fairview High School and will be joined by several of her musician friends.
Steven Buck, Electric Guitarist
A local engineer and researcher, Steve joins us for a second time and we are ever so glad to have him! This time he will not only accompany on several other group songs, but he will debut an original composition as well. Welcome back, Steve!
Dieter Bruhn, Impromptu Singer-Songwriter
Returning to Community Music Night is our favorite impromptu singer-songwriter Dieter Bruhn. Dieter's unique approach to songwriting, namely in using simple, comedic, timely insight brings much smiles and laughter. He also enjoys uniting people through music and will lead one of our group sing-alongs.
Trish Zornio, Community Music Night Host & Founder
Pianist, Guitarist, Vocalist, Singer-Songwriter/Composer
A Jill-of-All-Trades and researcher by training, Trish delights in developing ideas and projects of a variety of topics. When she began revisiting her own passion for music she quickly discovered many of her professional friends harbored hidden talents as well and the idea was born. The first several of the series were hosted on her own front porch in downtown Boulder but quickly outgrew the lawn space, so she set out determined to make community-inspired musical events for local professionals. It is with much delight that a collaboration with eTown was born.

You'll find her as the host of the evening, as well as performing solo and with several other artists. Primarily a pianist and singer-songerwriter, Trish also plays flute, guitar, and has dabbled in most instruments. She grew up with a variety of musical influences such as classical, musical theatre, jazz, orchestra, indie and pop. Her current styles now reflect a combination of these, at times opting for the simplicity of a single instrument such as a cappella or a piano original. In usual fashion, she will share all newly written material and for this show has written one of the main group songs. She currently works at Stanford University in the School of Medicine and spends her time between learning the ways of Silicon Valley and enjoying her favorites here in Boulder, her home of five years.
Several additional artists including bassists, cellists, fiddlers & more to be announced!