Community Music Night @ eTown Hall
When:

May 28, 2015

Time:

7:00 pm - 9:00 pm

Where:

eTOWN HALL / 1535 Spruce Street, Boulder, CO 80302

Cost:

$10 Plus Applicable Service Fees

Share:
Doors: 6:00pm
Show Start: 7:00pm
Show End: 9:00pm
---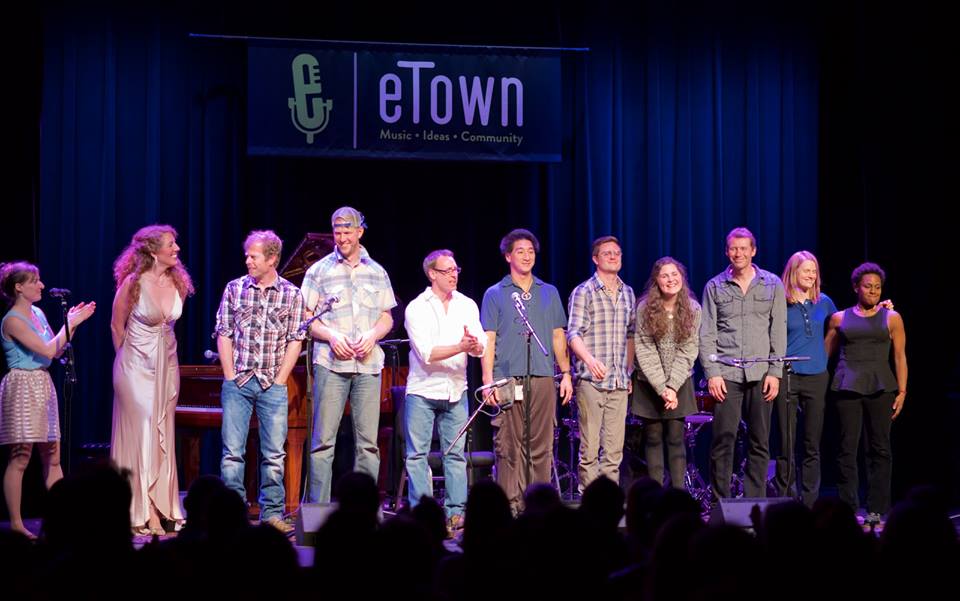 Akin to the musical version of "Ignite Boulder", all of our musicians are every-day folk: Scientists, educators, engineers, and more. Yet they all have one thing in common: Their passion for high-quality music.
At each of our events you'll explore diverse musical styles from a variety of musicians such as original flamenco-inspired guitar to soul/jazz to folk to on-the-spot-originals to pop and classical. Some artists play a solo, most mix 'n mingle throughout the evening, and sometimes we even have sing alongs or surprise birthday serenades.
This interactive, musically spirited evening is sure to entertain. All ages welcome, and in community spirit be sure to invite your family, friends, and neighbors!
---
About the Musicians:

Leslie Ann Leddy, Pianist, Vocalist, Composer
One of our latest additions to Community Music Night, this Georgia Peach has truly lit up our stage with her beautiful original piano compositions. After moving west to Boulder Colorado in 2005 with her piano and a heart ready to completely explore the grandeur the foothills, Leslie began playing piano before her memories were even solid in her brain; her favorite place in the house growing up was always under the piano listening to her mother play and sing. She studied piano in college at Furman and Shorter Universities. Her professional experiences have given her the opportunity to perform with the Greenville Symphony Opera, the Furman University Choral, the Shorter University Choral, and travel and perform in East Europe, Greece, Europe, Honduras and Costa Rica.
Other closer to home endeavors have involved accompanying for choirs, dance groups, eurythmists, the Colorado Symphony and Denver Brass ensemble at First Presbyterian Chuch and Macky Auditorium as well as solo recitals at the Boulder Public Library Canyon Theater, and various assisted living facilities and volunteering performances at local hospitals. She has also won several awards of honor, music scholarships, and was honorably invited to attend the St. Petersburg's Piano Institute, Russia at age 16.
While competitions and recitals and performances have been much of her experience, her true passion is in creating her own compositions and collaborating with other musicians. She also loves teaching music at a local Montessori school, as well as private and group lessons from her own music studio, The Peach Piano Studio in Boulder CO.

Evan Reeves & Laura Wade, Violinist, Guitarist, Vocalist Duo
This duo comes will debut with our group this May - and we look forward to including their unique talents! With a touch of upbeat Irish luck and self-described 'quirky crowd pleasers', together these two will grace our stage as openers for the evening. Don't be late!

Elise Legendre, Pianist, Vocalist, Songwriter
A recent addition to Community Music Night, 16-year-old singer-songwriter Elise Legendre has captured our attention. A winner of the 2014 eTown Handmade Song Contest, Elise was able to record her song, "Calling" at the eTown studios in Boulder. The song was recently released on CD and on iTunes. Shortly after she joined us for our debut at eTown, and again during our segment at Boulder Arts Week.
Although just beginning to perform her original songs publicly, Elise has been composing songs since Middle School. She has also been active in local theater, musical theater and opera productions, having performed with the Colorado Music Festival, the University of Colorado Opera, Broadway in Boulder, the Colorado Shakespeare Festival and her school choirs. For Community Music Night, Elise will combine piano and vocals for an acoustic set. A Boulder native, Elise is currently a Junior at Fairview High School.

Taishya Adams, Vocalist
A crowd favorite with her bold voice and veteran to the music world, Taishya made her vocal debut in a kindergarten class performance. Following many performances in school musicals, she joined a gospel choir and fell in love with the marriage of spirit and praise. She formed a soul punk band and even dabbled in sound engineering. After a near 10 year hiatus, Taishya has taken to singing again via Community Music Nights and is enjoying all the beloved art has to offer. When she's not taking to the stage you'll find her working as an education consultant for state education agencies.

Geoff Kembel & Jennifer Franz, Guitarist, Pianist, Vocalists/Harmony Duo
Geoff and Jen first joined our series two summers ago where they started performing together and have quickly become an evening favorite. After traveling extensively and even getting married this past year (congratulations!), we are thrilled to invite them to reunite with us here at eTown! Putting a fresh spin on beloved covers by artists such as Gregory Alan Isakov and Mumford & Sons, this male/female harmony duo is sure to bring sweet smiles.

Asha Romeo, Vocalist
Asha, a 16-year-old sophomore at Boulder High School, is our newest performer and will have her debut at the May eTown event. Asha comes from a family who loves music; her mother is a violinist and directs productions, her father a tenor who would always sing around the house. She played violin until age eleven when she found her passion to be singing. After starting voice lessons at age 13, she has kept it up ever since with the Dana V. Music Studio. She's performed on stage with several school musicals and plays, or in her mother's production 'Revels'. Asha adores performing and creating, and is delighted to have the opportunity to perform at eTown Hall with Community Music Night group!

Ben Fullerton, House Drummer
Raised by two singer/songwriters, at the age of 4 Ben decided to break rank and become a drummer. Sixteen years later, while pursuing a performance degree from the Berklee College of Music, he developed severe tendonitis that forced him to take an indefinite hiatus. His creativity sought new outlets and after receiving a camera for Christmas one year he found himself unable to stop taking pictures. In the blink of an eye he transitioned into professional photography and later filmmaking. When he couldn't find the right music for a film project, he remembered his roots and decided to make it himself... the fire for creating music started raging once again. Ben has joined Community Music Nights for several events and we are thrilled to have his expertise and jovial spirit.

Trish Zornio, Community Music Night Host & Founder
Pianist, Guitarist, Vocalist, Singer-Songwriter/Composer
A Jill-of-All-Trades and researcher by training, Trish delights in developing ideas and projects of a variety of topics. When she began revisiting her own passion for music she quickly discovered many of her professional friends harbored hidden talents as well and the idea was born. The first several of the series were hosted on her own front porch in downtown Boulder but quickly outgrew the lawn space, so she set out determined to make community-inspired musical events for local professionals. It is with much delight that a collaboration with eTown was born.
You'll find her as the host of the evening, as well as performing solo and with several other artists. Primarily a pianist and singer-songerwriter, Trish grew up with a variety of musical influences such as classical, musical theatre, jazz, orchestra, indie and pop. Her current styles now reflect a combination of these, at times opting for the simplicity of a single instrument such as a cappella or a piano original. In usual fashion, she will share all newly written material.
Several additional & supporting artists including bassists, guitarists, fiddlers & more to be announced!