Community Music Night @ eTown Hall
When:

January 29, 2015

Time:

6:00 pm - 9:00 pm

Where:

eTOWN HALL / 1535 Spruce Street, Boulder, CO 80302

Cost:

$5 Plus Applicable Service Fees

Share: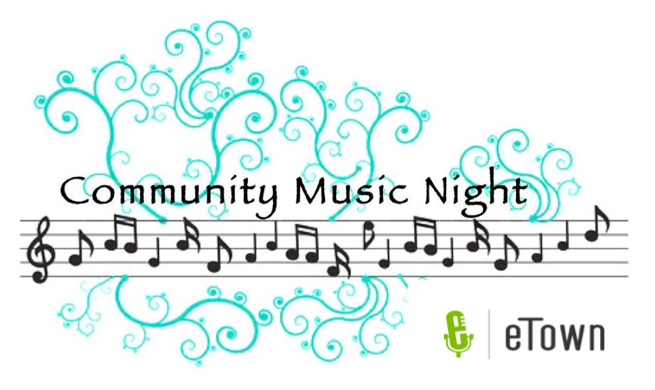 Community Music Night is an event aimed at inspiring local professionals to pursue their musical roots while fostering community spirit. Akin to the musical version of "Ignite Boulder", all of the musicians performing in this evening's event are every-day Boulder folk: Scientists, educators, engineers, and more. Yet they all have one thing in common; their passion for high-quality music. In one evening you'll explore diverse musical styles from a variety of musicians such as original flamenco-inspired guitar to soul/jazz to folk to on-the-spot-originals to pop and classical. This interactive, musically spirited evening is sure to entertain. All ages welcome, and in community spirit be sure to invite your neighbors!

Doors and Reception: 6-7pm
Community Music Night Performances: 7-9pm

About the Participating Artists:
Jose-Maria Ramas
Joe is a regular Jack-Of-All-Trades, but here at Community Music Night he takes a step away from his usual work in physics, acrobatic escapades, and his band Boomstick to serenade us with original flamenco-inspired compositions for guitar. Between box-tapping polyrhythms and interweaving melodies, his flurry of fingers will more than capture your attention.

Jeremy Dion
A psychotherapist by day, Jeremy moonlights as a professional musician performing shows across the country with his distinctive Mile High Americana style. Most recently, he was featured as a 2014 nominee for best singer-songwriter by Westword Magazine. Inspired by his daytime profession, Jeremy is a natural storyteller and writes songs of intent and optimism.

Taishya Adams
A crowd favorite with her bold voice and veteran to the music world, Taishya made her vocal debut in a kindergarten class performance. Following many performances in school musicals, she joined a gospel choir and fell in love with the marriage of spirit and praise. She formed a soul punk band and even dabbled in sound engineering. After a near 10 year hiatus, Taishya has taken to singing again via Community Music Nights and is enjoying all the beloved art has to offer. When she's not taking to the stage you'll find her working as an education consultant for state education agencies.

Ryan Madson
An elusive Boulder native and former member of the band Artful Dodgers, Ryan brings a singer-songwriter's touch to contemporary pop tunes, soul music and original folk. His diversity in musical styles is reflected in a history of touring with punk bands, wedding serenades, South American percussionists, and as an electronic dance music producer. Outside his musical endeavors Ryan manages a local software startup.

Ken Stevens
As with several others, Ken has joined us for several Community Music Nights and can also be found playing all over town, perhaps most notably as the opener for the Reel Rock Film Festival at the Chautauqua Theater in 2013. He is often known for his song "Boulder Girls" which is always a local favorite. But don't let his musical pursuits fool you - Ken is also an engineering consultant. 

Dieter Bruhn
Dieter taught himself how to play the guitar while in college and since then has learned to see music as an avenue to make global connections as music can transcend language and cultural barriers. Ever a passion, he now gives innovative presentations at teaching conferences on how to successfully incorporate music into the ESL classroom. Dieter has quickly become Community Music Night's go-to man for impromptu song-writing and classic sing-alongs.

Ben Fullerton
Raised by two singer/songwriters, at the age of 4 Ben decided to break rank and become a drummer. Sixteen years later, while pursuing a performance degree from the Berklee College of Music, he developed severe tendonitis that forced him to take an indefinite hiatus. His creativity sought new outlets and after receiving a camera for Christmas one year he found himself unable to stop taking pictures. In the blink of an eye he transitioned into professional photography and later filmmaking. When he couldn't find the right music for a film project, he remembered his roots and decided to make it himself... the fire for creating music started raging once again.

Trish Zornio
Community Music Night's founder.  If Joe is the Jack-Of-All-Trades, Trish is the Jill. A researcher by training, she delights in developing ideas and projects of a variety of topics. When she began revisiting her own passion for music she quickly discovered many of her professional friends harbored hidden talents as well and the idea was born. The first several of the series were hosted on her own front porch in downtown Boulder but quickly outgrew the lawn space, so she set out determined to make community-inspired musical events for local professionals. It is with much delight that a collaboration with eTown was born. You'll find her as the host of the evening, as well as performing solo and with several other artists. Primarily a pianist and singer-songwriter, Trish grew up with a variety of musical influences such as classical, musical theatre, jazz, orchestra, indie and pop. Her current styles now reflect a combination of these, at times opting for the simplicity of a single instrument such as a cappella or a piano original.


More musicians to be announced!