eTown & Global Greengrants Fund present: Disruption
When:

September 8, 2014

Time:

7:00 pm - 9:00 pm

Where:

eTOWN HALL / 1535 Spruce Street, Boulder, CO 80302

Cost:

$10 Plus Applicable Service Fees

Share:
eTown & Global Greengrants Fund present: Disruption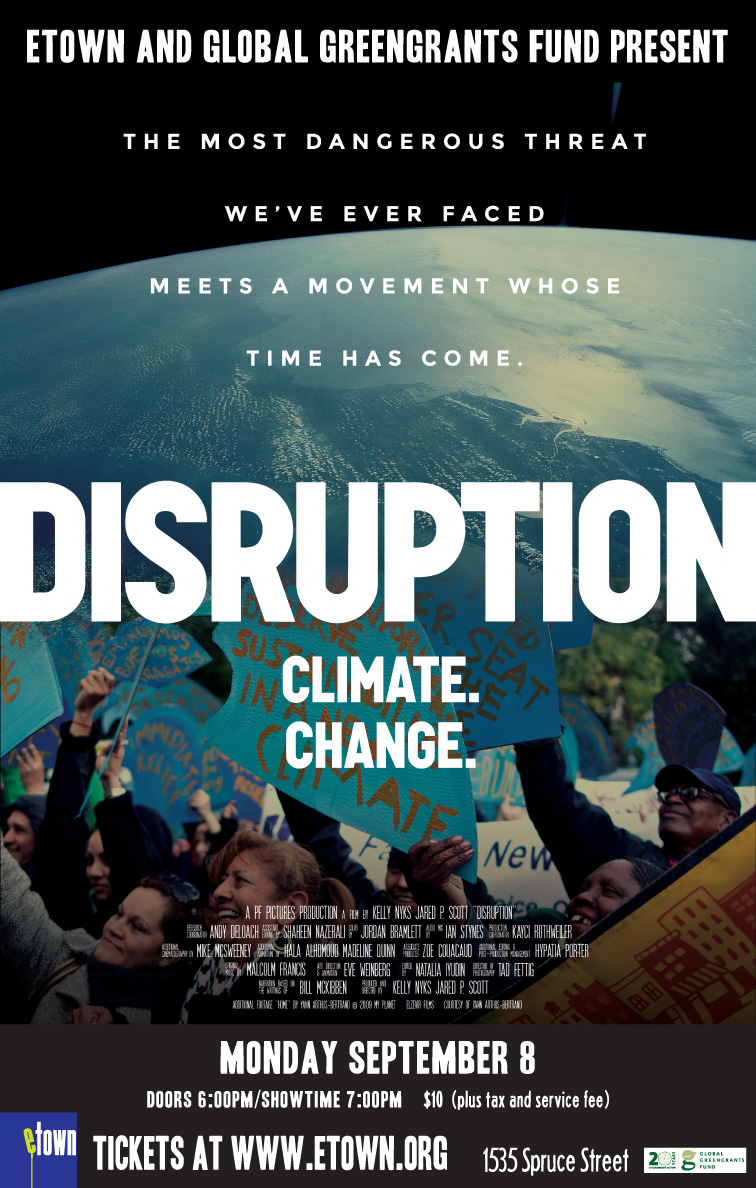 Doors: 6:00pm
Film Start: 7:00pm, followed by Q+A
End: 9:00pm
'When it comes to climate change, why do we do so little when we know so much?' Through a relentless investigation to find the answer, Disruption takes an unflinching look at the devastating consequences of our inaction. The exploration lays bare the terrifying science, the shattered political process, the unrelenting industry special interests and the civic stasis that have brought us to this social, moral and ecological crossroads. The film also takes us behind-the-scenes of the efforts to organize the largest climate rally in the history of the planet during the UN world climate summit.This is the story of our unique moment in history. We are living through an age of tipping points and rapid social and planetary change. We're the first generation to feel the impacts of climate disruption, and the last generation that can do something about it. The film enlarges the issue beyond climate impacts and makes a compelling call for bold action that is strong enough to tip the balance to build a clean energy future.
Disruption - Official Trailer from Watch Disruption on Vimeo.
---
About Global Greengrants Fund
Global Greengrants Fund channels donations into small grant ($3,000-$5,000) for local environmental work in Africa, Asia, Latin America, and island nations.
They enable those who believe everyone deserves a healthy environment to support grassroots campaigns and community-led projects for a more just and sustainable world.
Local communities know the challenges they face. With the right financial support, they can care for the environment while also gaining a voice in their own future.
Find out more at http://www.greengrants.org/