Mantis Made presents: The Orb w/ Visuals by Android Jones
When:

August 16, 2014

Time:

7:00 pm - 9:30 pm

Where:

eTOWN HALL / 1535 Spruce Street, Boulder, CO 80302

Cost:

$20 Plus Applicable Service Fees

Share:
Mantis Made presents a night of electronic music with influential duo The Orb, accompanied by Visual Projectionist Android Jones
Event Doors: 6:00pm
Show Start: 7:00pm
Show End: 9:30pm
---
The Orb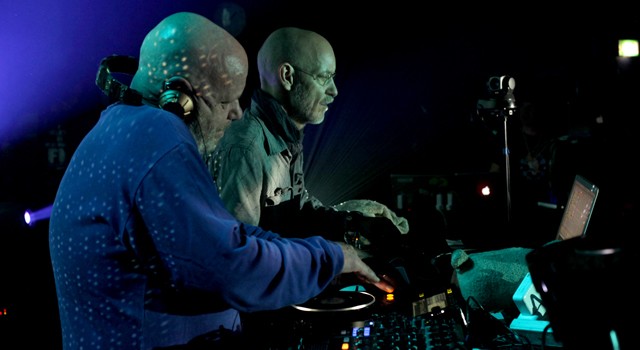 Over the last 25 years, The Orb has charted one of the most idiosyncratic paths in music, notching up hit singles and albums, sellout shows all over the world and an impressive string of collaborations, most recently reggae legend Lee Perry on More Orbservations From The Starhouse.
Initially formed by Alex Paterson and the KLF's Jimmy Cauty in 1988, The Orb has since consisted of the former plus different collaborators, springing to prominence with 1989's 'A Huge Ever-Growing Pulsating Brain Which Rules From The Centre Of The Ultraworld' before 1991's The Orb's Adventures Beyond The Ultraworld created a new genre called 'ambient house' but stretching into dub and avant garde.
'Little Fluffy Clouds' [co-written with long-time collaborator Youth] was a hit single, followed by 1992's U.F. Orb reaching number one in the album charts, spawning a top ten single in the epic 'Blue Room'. The Orb went on to release a string of albums, including Live '93, Orbus Terrarum, Orblivion, Cydonia, Bicycles & Tricycles, The Dream and Baghdad Batteries, collaborating with Pink Floyd's Dave Gilmour on 2010's Metallic Spheres.
Alex, who played a pivotal role in the creation of Primal Scream's epoch-making Screamadelica, has also pursued side projects, run his own record labels and remixed names including Primal Scream, Erasure and Front 242, while DJing all over the world and for BBC Radio.
The silver jubilee shows are both testament to the longevity of a uniquely original British musical talent and guarantee of an evening of floor-shaking grooves, warmly-surreal humour and the original euphoric spirit which turned acid house into the biggest youth revolution since punk rock.
---
Android Jones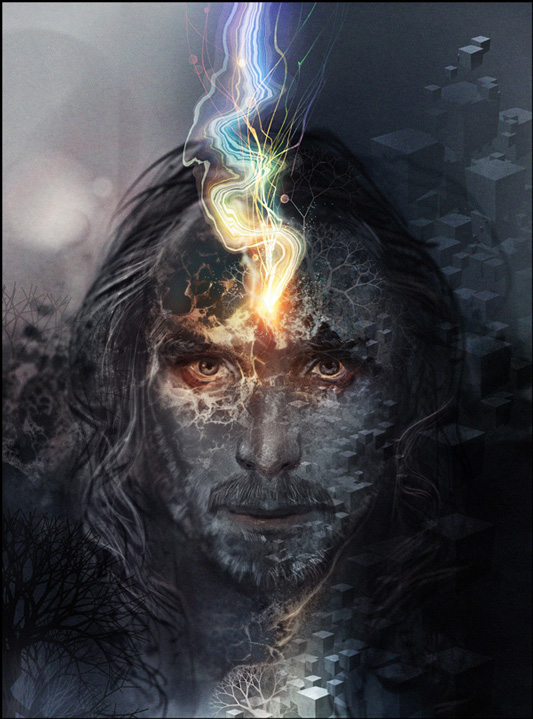 Android Jones is at the forefront of the Electro-Mineralist art movement, a wave of artists who's medium is electricity and their hardware and tools are forged from mining elementsfound deep inside the earth. Android's body of work aims to emphasize creativity as the foundation of consciousness and an agent of social change. As an Electro-Mineralist, Android builds on the technical developments of past centuries in art history while pushing the boundaries of the imagination with new technologies and media forms. Moving beyond the traditional organic vegetable and animal technologies of pencils, ink, and brushes, Android develops latent possibilities within software programs such as Painter, Photoshop, ZBrush, and Alchemy, discovering new combinations and uses for tools that exceed the original intentions of their programmers.
In Android's live art performances, including the acclaimed Phadroid dance performances with wife Phaedra Ana, he incorporates elements of chance and improvisation, inviting synchronicities that additionally exceed the individual artist's intentions and allow for unscripted moments of beauty to shine through. As an experience designer, Android has contributed to films, games, and to building communities in person and online, and his interactive installations have enchanted tens of thousands of participants at events like Boom and Burning Man.
Viewing the digital domain as a medium of energy and light capable of expanding the nature of reality, Android's art encourages others to explore the potential interfaces of mind and machine in this time of accelerating change and increasing novelty. To this end, Android's art serves two related functions: it bears witness to realities accessible through heightened states of consciousness, and it also engenders heightened awareness through the processes of creation and audience interaction. Electro-Mineral art becomes a tool for navigating reality and human awareness, and Android's art invites others to join the advancing evolution of consciousness as we approach the coming creative singularity.