Meeting of the Minds: Cultivating a Neurodiverse Workplace
When:

April 4, 2016

Time:

6:30 pm - 8:00 pm

Where:

eTOWN HALL / 1535 Spruce Street, Boulder, CO 80302

Cost:

$100-$200 See ticket link for price information

Share:
Doors at 5:30pm
Event Start: 6:30pm
Event End: 8:00pm
---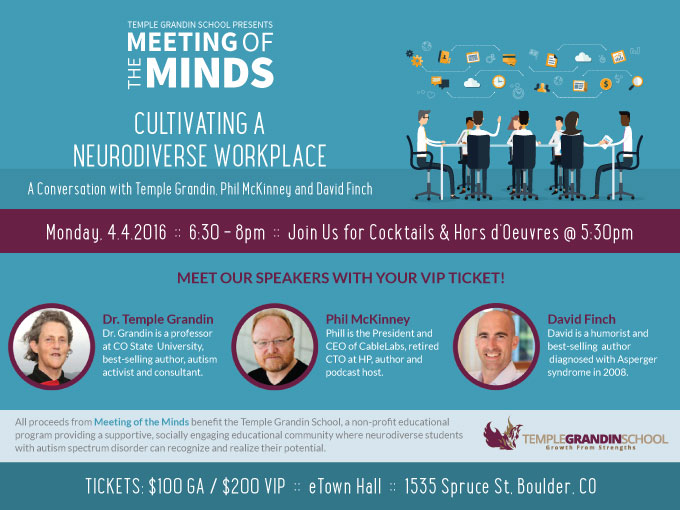 The Temple Grandin School is excited to present our First Annual Meeting of the Minds in Boulder. Nationally recognized speakers Temple Grandin, Phil McKinney and David Finch will delve into why "Cultivating a Neurodiverse Workplace" should be the next strategic move organizations make to unleash their competitive advantage. Discover how intentionally introducing neurodiversity (diverse minds) will spark innovation and unlock the creative potential of your entire team.
Our three keynote speakers are thought leaders in the area of neurodiversity in the workplace. Their combined insights will prove to be informative and inspiring.
Doors open at 5:30pm – Join us for beer, wine and appetizers from Frasca Food & Wine. VIP tickets include refreshments plus a private reception with all three guest speakers!
All proceeds benefit the Temple Grandin School.
---
Temple Grandin
The world knows Temple Grandin as the face of autism. Her accomplishments as a speaker, author and advocate earned her a place among TIME magazine's "100 Most Influential People in the World" in 2010. Her life story was detailed in the acclaimed HBO biopic, Temple Grandin. Dr. Grandin continues to speak and write about autism, most recently in her book Different…Not Less.  Dr. Grandin has been professor of animal science at Colorado State for over 20 years and has made enormous contributions to the livestock industry. Her insights into animal behavior shaped innovative approaches to livestock handling that have become the industry standard.
Phil McKinney
Phil McKinney is the President and CEO of CableLabs and in this capacity he heads the research and development organization responsible for the global cable industry's technology and innovation roadmap.  In December 2011, he retired from Hewlett-Packard as the vice president and chief  technology officer of the Personal Systems Group at HP where he also oversaw the global Innovation Office. He is the author of "Beyond The Obvious" and host of the award winning Killer Innovations podcast. Phil is co-founder and serves on the board of Hacking Autism, a non-profit with a mission to fund, create and support opportunities that improve the personal and professional lives of people on the Autism Spectrum.  Phil McKinney is recognized, through his numerous worldwide speaking engagements, seminars and workshops, as a leading authority on innovation and its impact on business, industries, economies and society.
David Finch
David Finch is a humorist and author of the acclaimed New York Times best-selling memoir, The Journal of Best Practices. Married in 2003 and diagnosed five years later with Asperger syndrome, David has committed himself to relentless self-improvement, sometimes to a comical extent. A former semiconductor engineer turned full-time writer and speaker, David has written for The New York Times, Huffington Post, and Slate, and he writes a relationship blog for Psychology Today.