Taarka CD Release Party for "Making Tracks Home" w/ Benny "Burle" Galloway
When:

March 27, 2015

Time:

7:00 pm - 9:00 pm

Where:

eTOWN HALL / 1535 Spruce Street, Boulder, CO 80302

Cost:

$15 Will increase to $18 at the doors

Share:
Taarka CD Release Party for
"Making Tracks Home"
w/ Benny "Burle" Galloway
Doors: 6:00pm
Show Start: 7:00pm
Show End: 9:00pm
---
 Taarka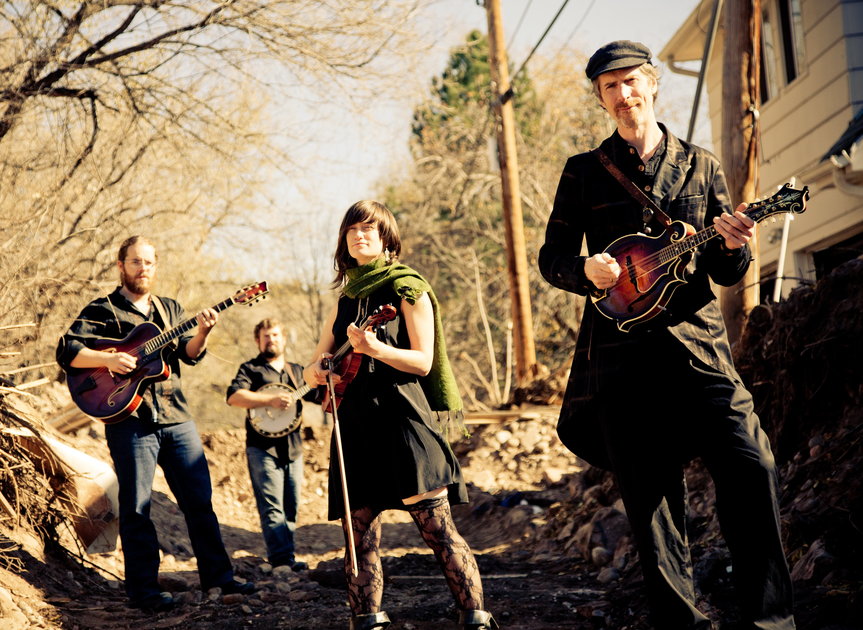 Taarka, the nom de plume of David Tiller and Enion Pelta-Tiller's band, has several meanings, from the sound roasting spices make in Indian cooking to the concept of vibrating energy strings in the Grand Unified Theory of particle physics.
Somehow, the notions of sizzling spices and string vibrations seem equally apt for a couple whose main instruments are violin and mandolin, who draw musical influences from Romania and Appalachia, and whose previous album, Adventures in Vagabondia, was partly inspired by an 1894 poetry collection. Its follow-up, Making Tracks Home (March 24, 2015), further explores bluegrass, Celtic, classical and gypsy-jazz, weaving a sonic quilt best characterized as indie folk.
No Depression Magazine says "Their voices sound fantastic together" and that Taarka "has their roots firmly planted in the purity and majesty of Colorado, and their music is directly evocative of such geography". The Nashville Scene describes it as "a distinctive, moody sound." The Source Weekly of Bend, Ore., adds, "The Colorado grass-fiends known as Taarka sound like a collective of train-riding pranksters trained in classical music by gypsy wolves in the foothills of the Appalachians.
"While the closest they got to training by wolves was studying Prokofiev, Tiller, who also plays mandolin, tenor guitar and bouzouki and sings, was born just outside of Washington, D.C. and raised in Waterford, Va., a region rich with bluegrass history. Classically trained five-string violinist and vocalist Pelta-Tiller was born in San Francisco and raised in Oakland, Calif., where she began studying at 3½. Now living in Lyons, Colo., the pair met in New York, where they busked in the subway and played in Brooklyn Browngrass before forming Taarka.
Bass master Troy Robey has been with them now for 6 years and guitar prodigy Eric Wiggs joins them to make up the whole of Taarka.
---
Benny "Burle" Galloway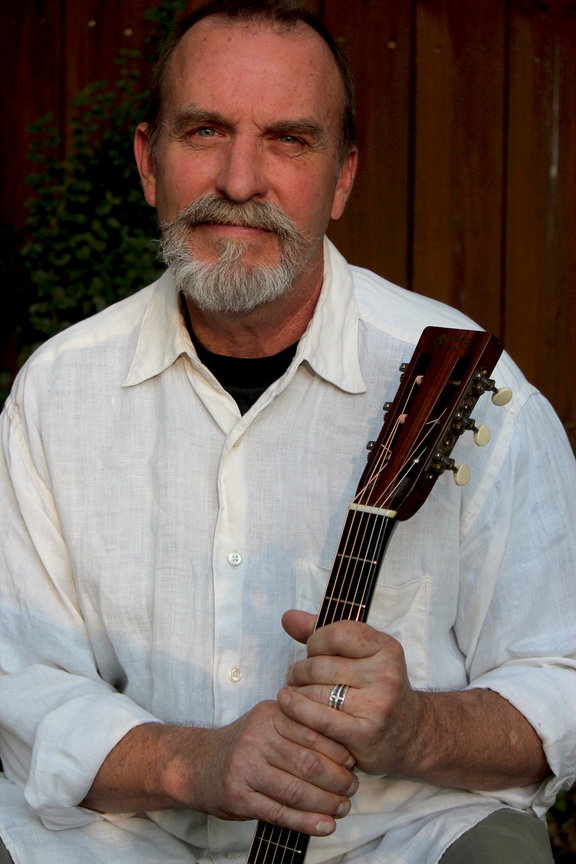 Benjamin Galloway, III was born the son of a poor sharecropper.  No, not really.  Benny is the son of an artist, Ben, and his only true love, Hele'ne. His birthday is January 1, 1958 and was born in Oceanside, California. Music rich and culture driven Louisiana was the contact point for his interest in sounds of all genres. He started writing songs in the mid-1970's after meeting one Sidney Campbell, the man responsible for immersing Benny in the culture of original music.
It was off to Colorado while still in his teens, he bought a ticket to Denver on a Greyhound Bus with a guitar and a stack of records and never looked back. The Denver area teemed with progressive sounds, plenty of like minded people to play music with, an abundance of music friendly events, and places to pick and sing.  Benny attended the Telluride Bluegrass Festival in 1978 for the first time and embraced what true American music stood for. After hearing Hot Rize, John Hartford, Norman Blake, New Grass Revival and Leon Russell, it was evident to "Burle" that he had just found a deep well from which to draw new musical ideas and directions. Robert Hunter and Jerry Garcia songs helped ignite a "reach outside the boundaries of folk and country."  Jorma Kaukonen and his guitar became everyday listening.  Bob Dylan and Bruce Springsteen set the bar as storytellers. Burle absorbed every sound available from rock to gospel and began crafting his powerful songwriting skills.
The sights and sounds of the country, no matter what part of the country, are what remain the backbone of his compositions. His lyrics spawn melodies that sound like they're one hundred years old.
Harry Smith, Anthologist of American Folk Music, became interested in Burle's pursuits as a songwriter and the two were introduced in Boulder, Colorado in the mid-1980's.  Their friendship was steadfast and centered
around the song and where it came from. Countless hours were spent pouring over the extensive recordings Harry had compiled for The Smithsonian and Folkways Records. Burle began writing and recording vast amounts of material at his home in Rollinsville, CO. The two would go to local jams and gigs and meet with and talk to all the musicians.  The education Burle received from Harry over a number of those years became priceless and helped him find the voice he presents today in both his music and lyrics.
As the years passed, Burle found himself working with new and established performers as a member of "roots bands," duos, trios, four pieces and more.  A lot of these musical situations were built around his tunes, featuring him as a front man, a lead vocalist, guitar and/or bass player.
Colorado's Front Range was a hot-bed of acoustic music.  Jams, festivals, pickin-parties, The Gold Hill Inn, The Millsite, The Stage Stop...the list goes on and on.
"I was surrounded by so much music and so many fun-loving folks, I couldn't help but be entirely absorbed...what a scene...everywhere we went...any day of the week...it was always about pickin' tunes...always.  What a unique situation; there couldn't be a better place for a songwriter to practice his trade and perform new material.  Lucky to say the least. It was easy for the songs to take on a mind of their own.  It seemed the sky was the limit.  Drums, no drums; plugged in, not plugged in...the sky was the limit. I was convinced that I had not only found the Holy Grail of Acoustic-style music, I had fallen right into it! Headfirst!  I met people who would help shape the way I wrote, played, performed, etc.  In turn, we became more than friends.  We became family - a musical family.
Buck Buckner, arguably the first bluegrass disc jockey in Colorado at KGNU Boulder, Fiddlin' Danny Elmore, Glen Henderson, Drew Emmitt, Vince Herman and Mark Vann, Bruce Allsopp, Glenn 'Junior' Keefe, Mark Merryman, Kane Hollins, Keely Brunner, Ned Alterman, Dobro Dave Griffin, Greg Reed and Kevin and Sandy Yost, Jeff Hibshman, Greg Schochet, Chuck Grossman, and scores of others who gave me the great licks and encouragement for all these tunes I had written.  I can't thank them enough.  Lets face it...songs are made to be played, and by God, we played 'em.!"
After the great band "Hot Rize" called it quits, Charles Sawtelle was producing records and sessions at his studio in North Boulder out by the old Holiday Drive-in.  Rancho DeVille - an old stone structure that resembled a bomb shelter...just East of 28th Street on 26th.  He and Burle had crossed paths numerous times; he was interested in doing some sessions.  There was no hesitation from Burle when his guitar playing hero wanted demos of new material leading up to Burle's first ever featured project - Charles producing and playing.  A dream come true, no less. "The first, second, and third thing I thought was 'I'm gonna get to play that guitar with the big cracks in it.  I'm gonna get to do a record with Charles.' " Charles called and told me that he was headed out to California, although he didn't say why.  But, upon his return we would start tracking some tunes out at the studio and get the album underway. Both of us on guitars and we would figure it out as we went, one song at a
time."  I couldn't have been more excited. After all these years the songs were ready to be given the treatment by a hero and a one of a kind player. The simpler, the better. "After I heard of Charles' passing, I retreated to Spread Eagle Lodge in Sunshine Canyon.  I continued creating pieces and learned new guitar licks and songs."
In May, Burle met two young enthusiastic musicians from Illinois, Jeff Austin and David Johnston who together with Adam Aijala and Ben Kaufman would form "Yonder Mountain String Band."  This new foursome and their
drive to establish themselves and their approach to music beyond Colorado's High Country was infectious.YMSB would soon become the vehicle that would carry the vast catalogue of "Burle Tunes" to their multitude of endearing fans, worldwide.  Ironically, their first album, "Elevation" was recorded at Rancho DeVille and produced by Sally Van Meter.  All the lyrics in the album's liner notes were hand written by Burle at the boy's
request.
In the past decade, Burle has collaborated and played with the finest of musicians and bands in America. His longtime producer and friend Sally Van Meter, Scott Law, Nick Forster, Jerry Douglas, Danny Barnes, Larry and
Jenny Keel, Darol Anger, Sam Grisman, John and Rebecca Frazier, Rob Wasserman, Shawn Camp, Jon Wiesberger, Travis Book, Mark Epstein, Robin Davis, Jon Stickley, Tyler Grant Jordan Ramsey, Pete Kartsounes, The Infamous Stringdusters, Leftover Salmon, Great American Taxi, Emmitt Nershi Band, Head for the Hills, The Grant Farm, Broke Mountain, The Wayword Sons, Town Mountain, Espresso!