The Breach Film Screening & Reception
When:

May 8, 2015

Time:

6:30 pm - 9:30 pm

Where:

eTOWN HALL / 1535 Spruce Street, Boulder, CO 80302

Cost:

$15 Plus Applicable Service Fees

Share:
You are invited to an exclusive screening and reception with the filmmakers and special guests of THE BREACH. Ticket price includes entry to screening and special wild Alaska salmon reception.
Doors: 5:30pm
Event Start: 6:30pm
Event End: 9:30pm
---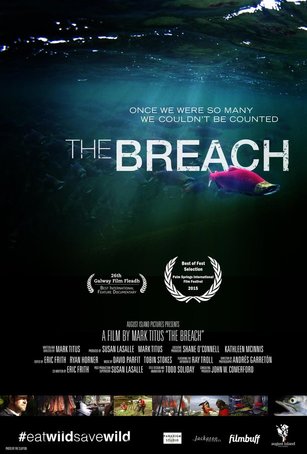 When fishing guide & filmmaker Mark Titus learns why wild salmon populations plummeted in his native Pacific Northwest, he embarks on a journey to discover where the fish have gone and what might bring them back.
Along the way, Titus unravels a trail of human hubris, historical amnesia and potential tragedy looming in Alaska –all conspiring to end the most sustainable wild food left on the planet.
THE BREACH is Writer/Director Mark Titus's personal journey with the ancient and mythical wild salmon as well as a call to action for all who, as stewards of the wild, care about sustainable and abundant natural resources.