The Rocky Mountain Spiritual Fellowship Presents: Re-Imagining Jesus
When:

August 24, 2014

Time:

7:00 pm - 9:00 pm

Where:

eTOWN HALL / 1535 Spruce Street, Boulder, CO 80302

Cost:

Donations Requested at the Door

Share:
The Rocky Mountain Spiritual Fellowship Presents:
Re-Imagining Jesus
Doors: 6:30pm
Show Start: 7:00pm
Show End: 9:00pm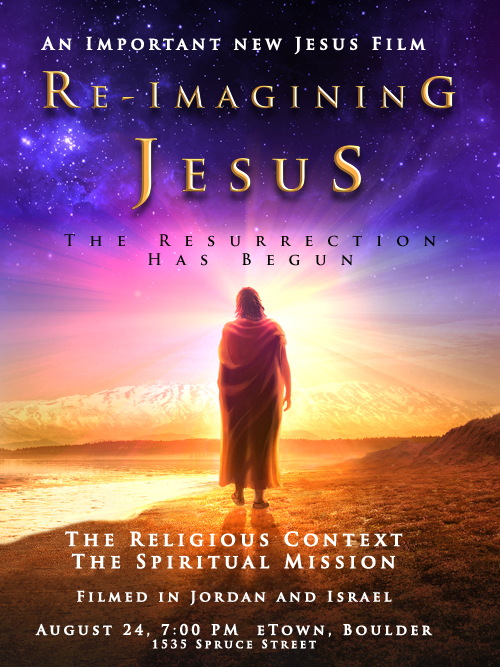 Join us at eTown for a showing of the film, Re-Imagining Jesus, shot in Israel and Jordan by local filmmaker David Kantor.  The film deals with the religious, political, and social environment which shaped the way in which Jesus undertook his mission, and the manner in which he framed his concept of an advanced religion.  Contains seldom seen footage of remote synagogue ruins in Israel, and Greek cities of the Decapolis in Jordan.
Run Time: 93 minutes.
About David Kantor:
David Kantor has combined thirty years of nature photography with an interest in religion and early Christianity to produce multimedia programs that range from the spiritual imagery of Native American rock art in Colorado and Utah to a documentation of the migration of early Christian centers from Constantinople north through Kiev to Moscow.  He also documented the return of the Volga region monasteries to the Russian Orthodox Church upon the collapse of Communism.  He is a long-time reader of The Urantia Book.