Wild Bear Mountain Ecology Center's 20th Anniversary Gala
When:

November 14, 2014

Time:

5:00 pm - 9:30 pm

Where:

eTOWN HALL / 1535 Spruce Street, Boulder, CO 80302

Cost:

$50-$125 See Link for Ticket Options

Share:
Wild Bear Mountain Ecology Center's 20th Anniversary Gala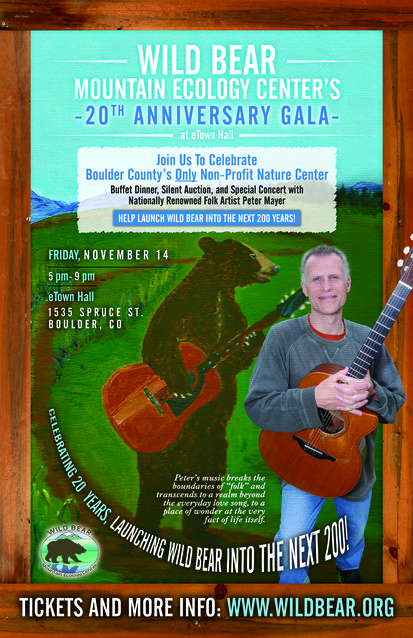 5 pm: Dinner, Silent Auction and Socializing
6:30: Welcome and Presentation
7 pm: Peter Mayer Concert
9 pm: Concert Ends (Silent Auction pickup until 9:30 pm)
Since 1995, Wild Bear Mountain Ecology Center has been the only non-profit all-ages nature center in Boulder County. Join us in celebrating the past 20 years of successfully educating and inspiring people of all ages to connect with nature and launching the future 200 years. This celebratory fundraiser includes a buffet dinner, silent auction and a concert by folk singer-songwriter Peter Mayer.
---

About Peter Mayer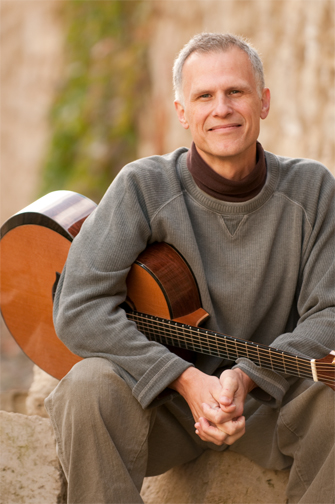 Peter Mayer writes songs for a small planet—songs about interconnectedness and the human journey; about the beauty and the myster of the world.  Whimsical, humorous, and profound, his music breaks the boundaries of "folk", and transcends to a realm beyond the everyday love song, to a place of wonder at the very fact of life itself.
Peter began playing the guitar and writing songs when he was in high school.  He studied Theology and music in college, and then spent two years in seminary.  After deciding that the priesthood wasn't for him, he took a part-time job as a church music director for 8 years, while performing at clubs and colleges and writing and recording his music.  In 1995, he quit his job and started touring full-time.  Since then, Peter has gradually gained a dedicated, word-of-mouth following, playing shows from Minnesota to Texas, New England to California.  He has nine CDs to his credit, and has sold over 70 thousand of them independently.
---
About Wild Bear Mountain Ecology Center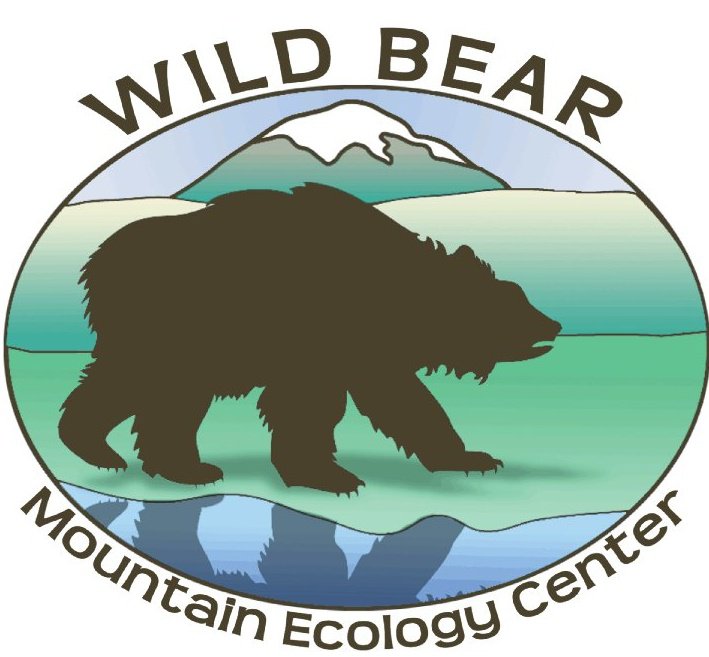 Wild Bear Mountain Ecology Center is the only non-profit nature center in Boulder County.
Since 1995, Wild Bear's mission is to provide year round educational programs to people of all ages fostering a life-long appreciation of the environment and promoting an environmentally aware and ecologically sound community.  Wild Bear's passionate roots in science education and the preservation of Colorado began as a small program serving 24 children in the summer of 1995, growing to serve over thousands of people of all ages every year.  Wild Bear's inspirational vision was founded on the belief that learning occurs every day, all day and throughout our lives. Our programming includes after-school programs, bear cubs (3-5 year olds), summer camps, adult and family workshops, special events and school-group programs.
Wild Bear is known for our high quality and creative workshops for children. With our rural location, 17 miles west of Boulder, Wild Bear provides a valuable service to families with limited activities for school age youth in their community.  Wild Bear serves an important niche, providing the only year round program for school age children in the Nederland community available. Wild Bear has been committed to serving underserved populations by providing the only school age childcare in the Nederland community where 35% of participants receive scholarships to attend.  All workshops are modestly priced or free and all programs are free to senior citizens.
Learn more at www.wildbear.org or visit our nature center and gift shop in the shopping center in downtown Nederland.